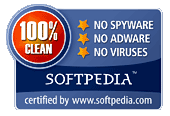 The download is a fully operational, 30 day trial version. You can register the trial version at any point during the trial period, or later, by ordering a license. Note that both the Keyboard Designer and the Runtime Keyboard will stop functioning after the trial period.

Standard, zipped installation sets are available, but they are rather large. Therefore, we have also made Windows Installer files (.MSI) available for download. These files require that you have Windows Installer ver. 2 installed (if you have Windows 98/2000/ME/XP, or if you have done other installations that were using Windows Installer you probably already have this). If you are running Windows Vista you must download the zipped installation set, unzip the Setup.exe program and then right click it and select Run as Administrator to install. You must also use the Run as Administrator option to start the Keyboard Designer and/or Keyboard Control Panel when entering your license key. Also note that the Runtime Keyboard cannot be used during logon on Vista, but Vista has that feature built in. Other than that both the Keyboard Designer and the Runtime Keyboard will work as before on Vista.
Note: Version 2.x and later does not support Windows 95. If you are running Windows 95 and would like to download version 1.x, or you would like to download ready-made keyboards not included in version 2.x of the Designer, click here. If you are planning to run the version 1.x keyboards with a later version of the Runtime, we recommend that you open the files in the later version of the Designer, make any modifications necessary, and save the files again. If you would like to download version 2.11 of the Keyboard Designer or Runtime Keyboard, click here.
WHATS NEW IN VERSION 3.2?
Version 3.2 of the Keyboard Designer includes minor user requested modifications and bug fixes.
Unicode
Full Unicode support has been added, including the following:
Keystrokes can be marked as Unicode even if the code is less than $100.
The extended flag cannot be set on Unicode characters
Key Types
There are now 3 types of keys, Normal, Shift and ShiftLock.
Keyboard Designer
The Keystrokes editor has been changed slightly to allow keystrokes to be marked as Unicode and an additional Extended flag button has been added.
You can now create Unicode labels which work on Windows 98 and above.
Runtime Keyboard
The COM interface now publishes two new properties:
KeepOnDesktop: when set to True (or 1) behaves as before. When set to False (or 0) it allows the Runtime Keyboard to move or be dragged outside the desktop area. The default is True.
Delay: A global delay between keystrokes can now be set specified in milliseconds.
Old version keyboards
Keyboard files are backwards compatable but Keyboard files saved in version 3.2 format may not open in earlier versions of the Keyboard Designer. Click here for a full version history.
Click here for a full version history